Dr. Mattiacio Creates Amazing Smiles!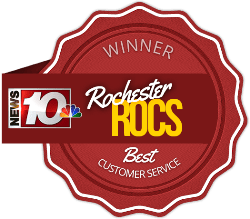 A confident smile is one of the greatest gifts one can receive- the gift to smile freely without feeling self- conscious or embarrassed. This type of smile confidence has the ability to open up opportunities socially and professionally. At Mattiacio Orthodontics, it is our mission to help give you that confidence. We accomplish this by using the latest orthodontic treatments such as Invisalign, Invisalign Teen, Insignia Custom Braces, Damon Clear Braces and more.
Most people assume that all orthodontic offices are the same… Most are! But we are NOT!
We work hard every day to ensure that your experience with us is EXTRAORDINARY! Our patients come first and our communication is beyond compare which for you translates into a life-changing smile.
Recent Reviews

As always, the staff were timely, courteous, knowledgeable, and took time to make certain my son's appliance fit and he was comfortable with the new piece.Review by Becky H. on 12/18/2017
There are not enough positive words to express how beautiful my girls smiles are thanks to Dr. Mattiacio and all of his amazing staff!!! It doesn't seem like saying thank you is enough, but thank you, thank you, thank you for all the care over the past couple years and for providing my girls with the MOST BEAUTIFUL smiles!!!! You are all so awesome!!!!!!!!Review by Maryann P. on 12/14/2017
Her teeth look great!!Review by Tracy C. on 12/14/2017
Jarred's smile looks awesome! We're happy to be done but will miss coming in to see Dr. Mattiacio and his wonderful staff 🙂Review by Peggy S. on 12/14/2017
Incredible experience for my little sister Julia!Review by Heather M. on 12/14/2017
We have been extremely happy with our care. We have been coming here foe 3 years and have not had a single complaint. Everyone is highly professional yet very friendly at the same time. Couldn't be happier!!Review by Susan T. on 12/14/2017
Great experienceReview by Kristin D. on 12/14/2017

Wonderful customer service from start to finish. Had two children have braces with this awesome team. They make every visit as fun as possible. The patients are made to feel important. There is no other place I would recommend.Review by Diane S. on 12/14/2017
Always upbeat and professional. Very thorough ortho care. Kids felt comfortable and happy with results!!Review by Kathleen S. on 12/14/2017

Friendly knowledgable staff. Dr. Marriacio is awesome! My daughters teeth look amazing!Review by Marianne S. on 12/14/2017
Here's What We Are All About
:
​