Candy Buy Back
Dr. Mattiacio is Collecting Halloween Candy from children to raise money for local schools and send candy overseas via Operation Gratitude to be shared with other children.
Dr. Mattiacio is redefining the phrase "put your money where your mouth is." This Halloween, trick-or-treaters in the community can bring their Halloween candy to participating schools and Dr. Mattiacio of Mattiacio Orthodontics will donate $1 per pound to your school. Here's how it works: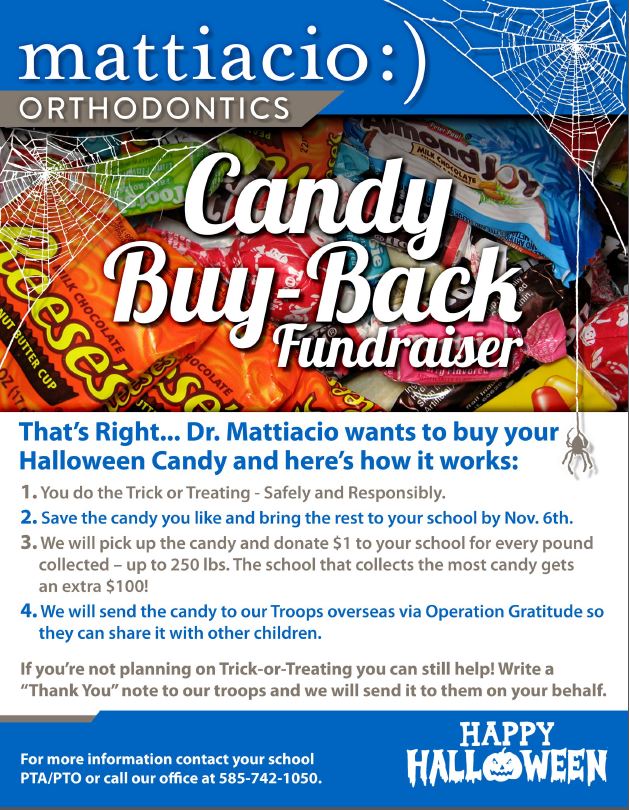 Currently, the participating schools include Bloomfield, Canandaigua, Red Jacket, and Victor. For more information about where to drop off your candy, please contact your school PTA/PTO. If your school would like to participate, please contact Shannon Lainson at Mattiacio Orthodontics (585) 742-1050 or info@mattiacioortho.com.
Not only will Operation Gratitude and the children overseas benefit from the Candy Buy Back event, so will the kids who are donating their candy! "We would love for everyone to minimize the number of sweets they eat. Visiting your dentist every 3-6 months and brushing and flossing daily are great preventative measures, but doing away with excess sweets altogether would really be beneficial to your teeth," says Dr.Mattiacio. "Kids should still dress up, go out, have fun, and even eat some candy. But after picking out some favorite pieces, they will probably have about 10 pounds left, and nobody needs that much candy!" Global sugar consumption for children increases by about 2% annually and currently sits at 50 million tons per year, which means parents need to be sure their kids' teeth are being cared for more than ever. Excessive candy consumption, as well as hurting children's teeth, can lead to hyperactivity and weight gain. In some cases, the wrong types of candy can also lead to broken teeth and damaged braces.
This is the eighth year Mattiacio Orthodontics hosted a Halloween Candy Buy Back event. To date, a total of over 1,000 pounds were collected and donated to our troops serving overseas, the Happiness House, and to the Ronald McDonald House of Rochester.