"How To"
Hello, Everyone!
Here's a quick "how-to" guide to earning your $100 Visa Gift Card !! We ask that you follow our system below so that it is easy for us to track and reward accordingly! Thank you again for referring your friends and extended family to us, we truly appreciate it! See below how to get rewarded for it as well 🙂
-Alex
Step 1. Grab a 'Share a Smile' card from the front desk!
(Or email us and we'll mail you some:)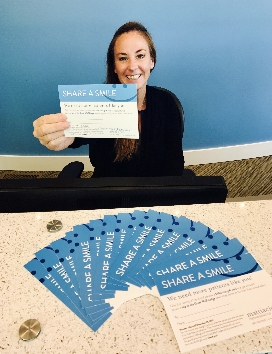 Step 2: Fill out the card & give it to a friend 🙂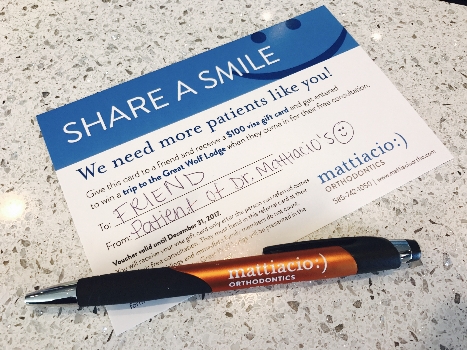 Step 3: Have your friend bring the card back with them when they come in for their New Patient Consultation
This is our indicator to give you the $100 and enter you to win our grand prize. *You will not receive ether unless we receive the card! They cannot fill out the card themselves while they are here.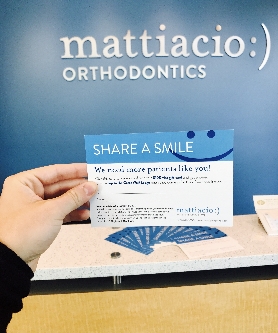 After that, grab some more & keep em comin'!
You could win up to $500 in rewards. Also, if you would rather.. we will credit your account $100 as opposed to giving you the $100 Gift Card- whichever you would prefer 🙂
Here's the info you were really looking for…
the REWARDS!
$100 per friend referred
1 entry into our grand prize per friend referred
Grand Prize = a trip to the Great Wolf Lodge
*You will receive your $100 visa gift card or $100 account credit only after the person you referred comes in for their free consultation. They must hand in the referral card at their consultation. Siblings and immediate family members do not count. The grand prize of a trip to the Great Wolf Lodge will be presented in the form of a $750 gift card. Thank you!
Contact Alex with any questions you may have!
Alex Camp
a.camp@mattiacioortho.com
(585) 742-1050